Lab Scale Spray Dryer Introduction
A lab scale spray dryer is a small-scale industrial equipment used for drying small volumes of liquid solutions, suspensions, or emulsions into powders. It is typically used for research and development, process optimization, and small-scale production in industries such as food, pharmaceutical, and chemical industries.

The lab scale spray dryer works by spraying a liquid solution into a chamber filled with hot air. As the liquid droplets are exposed to the hot air, the water evaporates, leaving behind the solid particles. The resulting powder is then collected from the bottom of the chamber using a cyclone separator or a bag filter.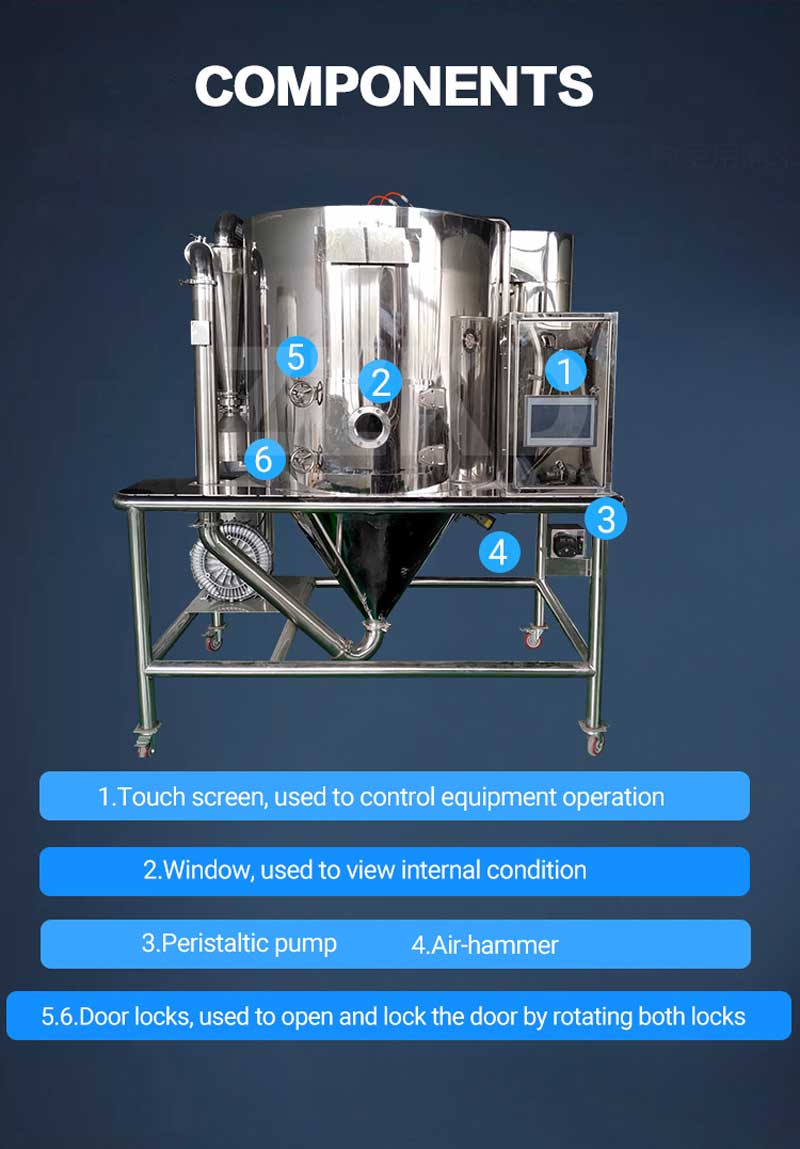 Lab Scale Spray Dryer Features:
Small capacity:
Lab scale spray dryers typically have a small capacity, ranging from a few milliliters to a few liters.
Compact size:
These dryers are designed to be compact and portable, making them ideal for use in research and development laboratories.
Adjustable parameters:
Lab scale spray dryers allow for the adjustment of various drying parameters, including temperature, airflow rate, and feed rate, to optimize the drying process.
Ease of use:
These dryers are relatively easy to operate, with simple controls and minimal maintenance requirements.
Drying chamber:
A drying chamber is where the liquid feed is sprayed and dried into a powder. The chamber is typically made of stainless steel and can be easily disassembled for cleaning.
Atomizer or nozzle:
An atomizer or nozzle is used to spray the liquid feed into the drying chamber. It can be either a single-fluid or two-fluid nozzle, depending on the type of liquid feed being dried.
Cyclone separator:
A cyclone separator is used to separate the dried powder from the exhaust air. It is typically made of stainless steel and can be easily disassembled for cleaning.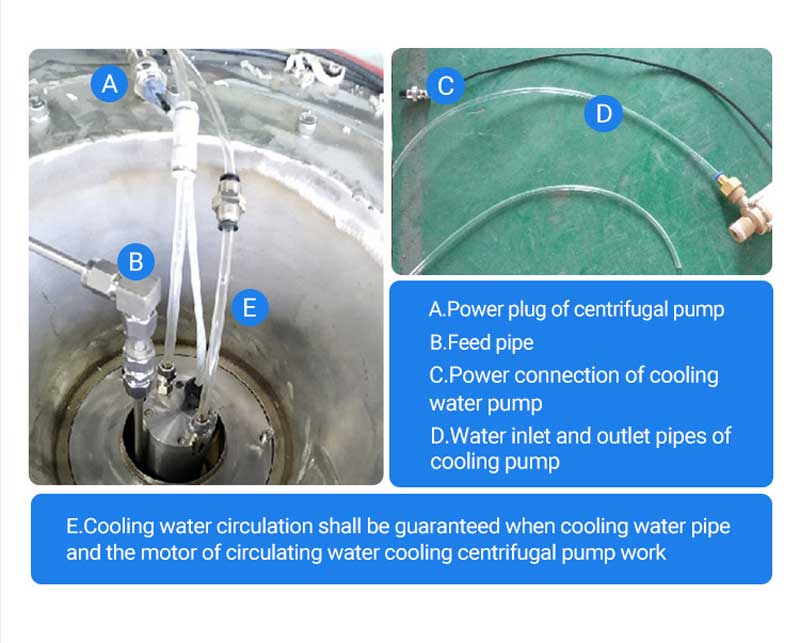 Lab Scale Spray Dryer Application:
Food processing:
Commercial spray dryers are used to produce a wide range of food powders such as milk powder, egg powder, and fruit powders.
Pharmaceutical industry:
Spray drying is used to produce pharmaceutical powders for use in tablets, capsules, and other dosage forms.
Chemical industry:
Commercial spray dryers are used to produce powders from chemical solutions or suspensions for use in a variety of chemical applications.
Ceramic industry:
Spray drying is used to produce ceramic powders for use in the manufacturing of ceramic products.
Environmental industry:
Spray drying is used to produce adsorbent materials for use in air pollution control and water treatment.
Cosmetics industry:
Commercial spray dryers are used to produce powders for use in cosmetics such as make-up and skin care products.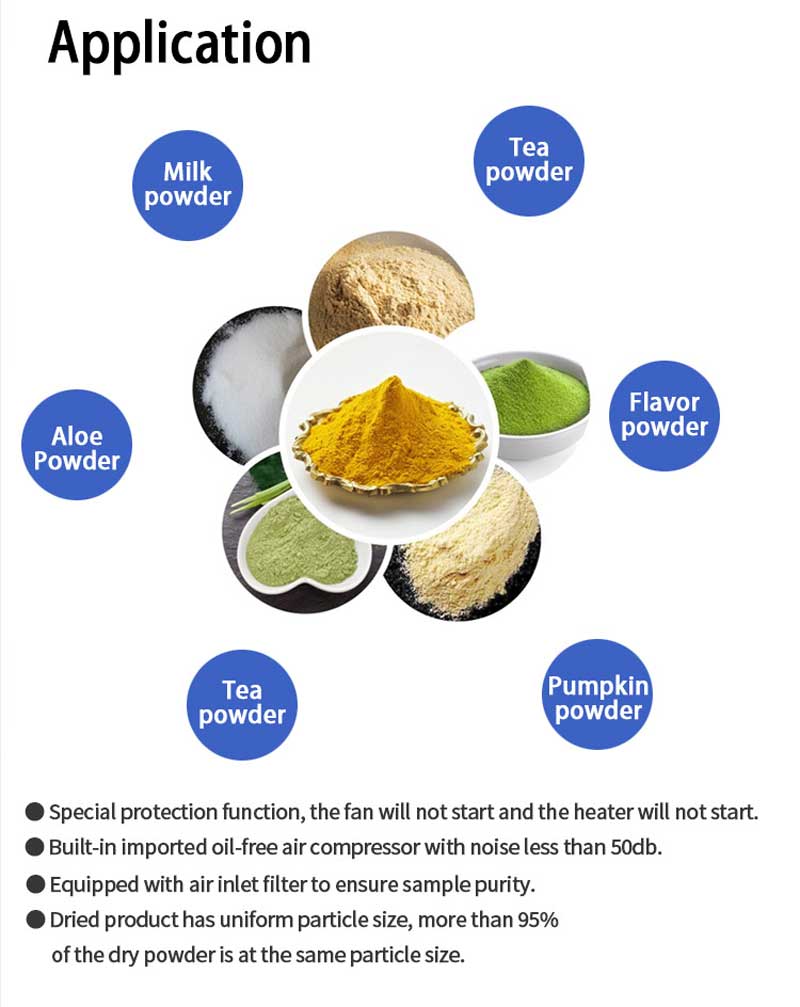 Operation Of Lab Scale Spray Dryer:
One: "Manual" control:
It is artificially switching and setting the functions and parameters on the screen.
Two: "Automatic" control:
How to use automatic control:
Step 1: Set parameters: such as temperature, wind speed, etc.
Step 2: Turn on the "Auto" button on the screen, and the automatic control function will be activated.
(In automatic control, the machine will first start the two functions of "fan" and "heating", and when the temperature rises to near the set temperature, it will turn on the "nozzle" or "needle" function, and wait until the speed of the nozzle reaches the set temperature. After setting the speed, the "peristaltic pump" and "cleaning" functions will be started)
The third step: the work is completed, just turn off the screen "automatic". After turning off the automatic, there will be about two minutes of shutdown preparation processing (there will be a prompt on the screen), the main purpose is to clean the nozzle.
Note: After the "automatic" function is turned on, do not operate other functions, otherwise it will be regarded as "manual" operation
Protective function:
One: heating protection:
When heating is started, the fan will be turned on, and the wind speed has a minimum limit.
When the fan is turned off, the heating will be turned off first.
Two: temperature protection:
When it stops working (every function is off), if the internal temperature exceeds 80 degrees, it will automatically start the fan, and it will not stop until the temperature drops to 60 degrees.
Case Of Lab Scale Spray Dryer:
A sports nutrition company wanted to produce a line of protein powders from liquid protein solutions. They purchased a lab scale spray dryer and worked with a spray dryer manufacturer to optimize their production process. They started by testing various liquid protein solutions, including whey protein and soy protein, to find the most suitable solution for their product line.
Once they identified the optimal protein solution, they used the lab scale spray dryer to produce small batches of protein powder. They tested the powder for various parameters such as particle size, moisture content, and protein content, and made adjustments to the process as necessary.
After optimizing the process, they scaled up to commercial production using a larger spray dryer. They were able to produce protein powders with consistent quality and high protein content, which they used in their sports nutrition products such as protein bars and drinks.