20l Rotovap introduction
The 20L Rotovap is a high-capacity rotary evaporator used for efficient and precise solvent evaporation in laboratory and industrial settings. It is equipped with advanced features and technologies that enable easy operation and maximum performance. The unit consists of a heating bath, a rotating flask, a condenser, and a collection flask, all of which work together to evaporate solvents under vacuum. The 20L capacity allows for large sample volumes to be processed at once, making it ideal for industrial-scale applications.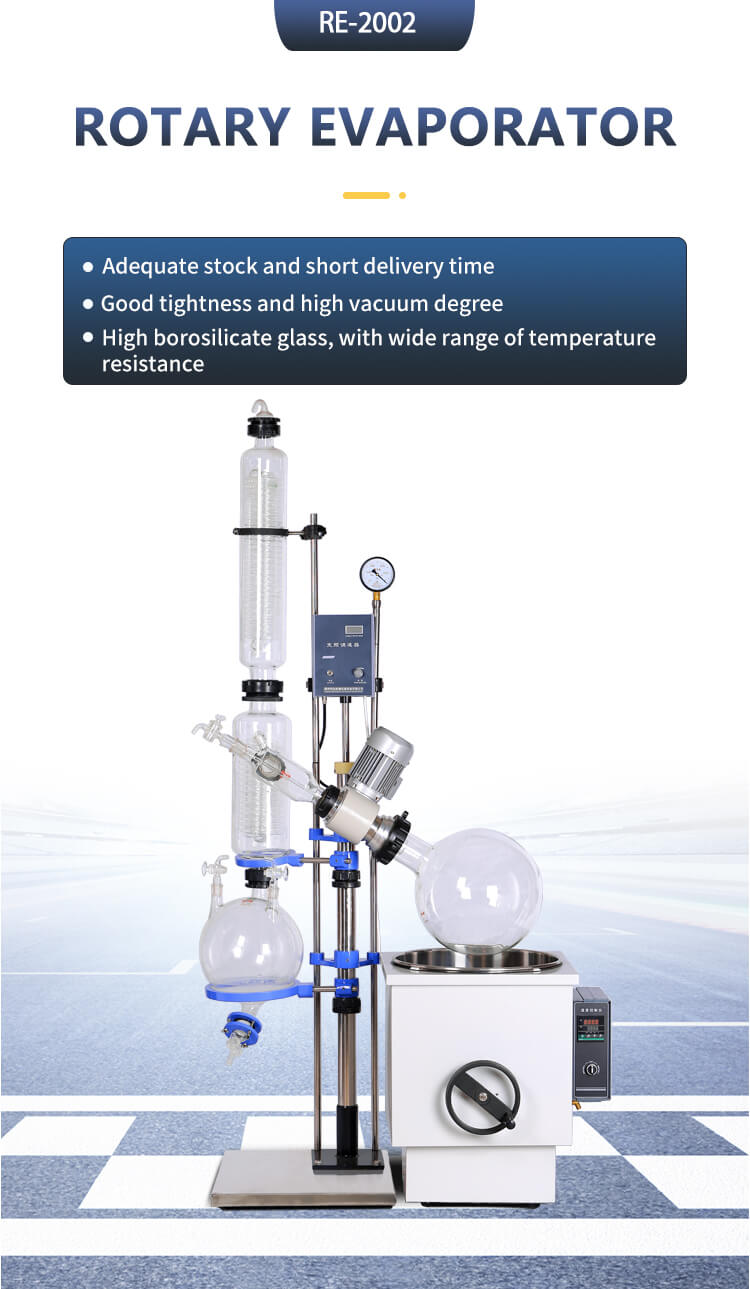 The Rotovap is capable of heating and cooling the solvent to achieve the desired evaporation rate and temperature control. It also features digital temperature and rotation speed control, as well as an automatic lift mechanism for easy flask removal. The unit is designed with safety features such as overheat protection and automatic shut-off in case of a power outage. The 20L Rotovap is widely used in the fields of chemistry, biochemistry, pharmaceuticals, and other related industries for applications such as concentration, drying, and extraction of solvents. Its high capacity and precision make it an indispensable tool for any laboratory or industrial setting where large-scale solvent evaporation is required.
20l Rotovap Features:
Large capacity: A 20L rotovap has a large flask capacity, which allows for distillation of a larger volume of liquid.
Digital temperature control: The temperature can be precisely controlled using a digital display and controller.
Automatic lift: The rotovap can be raised and lowered automatically using a motorized lift, making it easier to add or remove samples.
Vacuum control: The vacuum level can be controlled using a vacuum gauge and valve, allowing for precise control of the distillation process.
Heating bath: The heating bath is typically made of stainless steel and can be heated up to 180°C.
Condenser: The condenser is typically made of borosilicate glass and can be cooled using a chiller or water bath.
Safety features: Many rotovaps have safety features such as overheat protection, automatic shut-off, and pressure relief valves.
Easy-to-use interface: Many rotovaps have a user-friendly interface that allows for easy control of the distillation process.
Compact design: Despite its large capacity, a 20L rotovap is designed to take up minimal space in the laboratory.
Versatility: A rotovap can be used for a wide range of applications, including extraction, concentration, and purification of liquids in chemistry, biology, and other fields.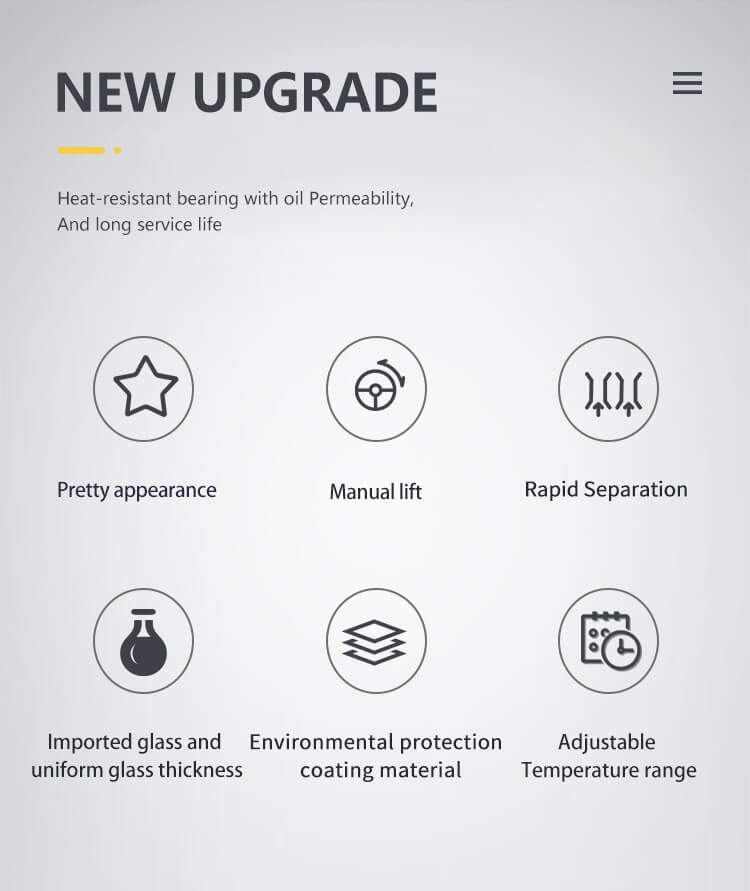 20l Rotovap Application:
A 20L rotovap has a wide range of applications in various fields, including chemistry, pharmaceuticals, food science, and more. Here are some common applications of a 20L rotovap:
Solvent recovery: A rotovap can be used to recover solvents from chemical reactions, reducing waste and saving costs.
Essential oil extraction: The rotovap can be used to extract essential oils from plants, providing a more efficient and effective method than traditional steam distillation.
Purification of organic compounds: A rotovap can be used to purify organic compounds, such as natural products or synthetic compounds, by removing impurities through distillation.
Concentration of solutions: A rotovap can be used to concentrate solutions, such as proteins or pharmaceuticals, by removing the solvent and leaving behind the desired compound.
Fractional distillation: A rotovap can be used for fractional distillation of complex mixtures, separating compounds based on their boiling points.
Preparation of samples for analysis: A rotovap can be used to prepare samples for further analysis, such as mass spectrometry or chromatography, by concentrating or purifying the sample.
Extraction of cannabinoids: The rotovap can be used in the extraction of cannabinoids from cannabis, such as THC or CBD, for use in medical or recreational products.
The 20L rotovap is a versatile tool that can be used for a wide range of applications in research and industry.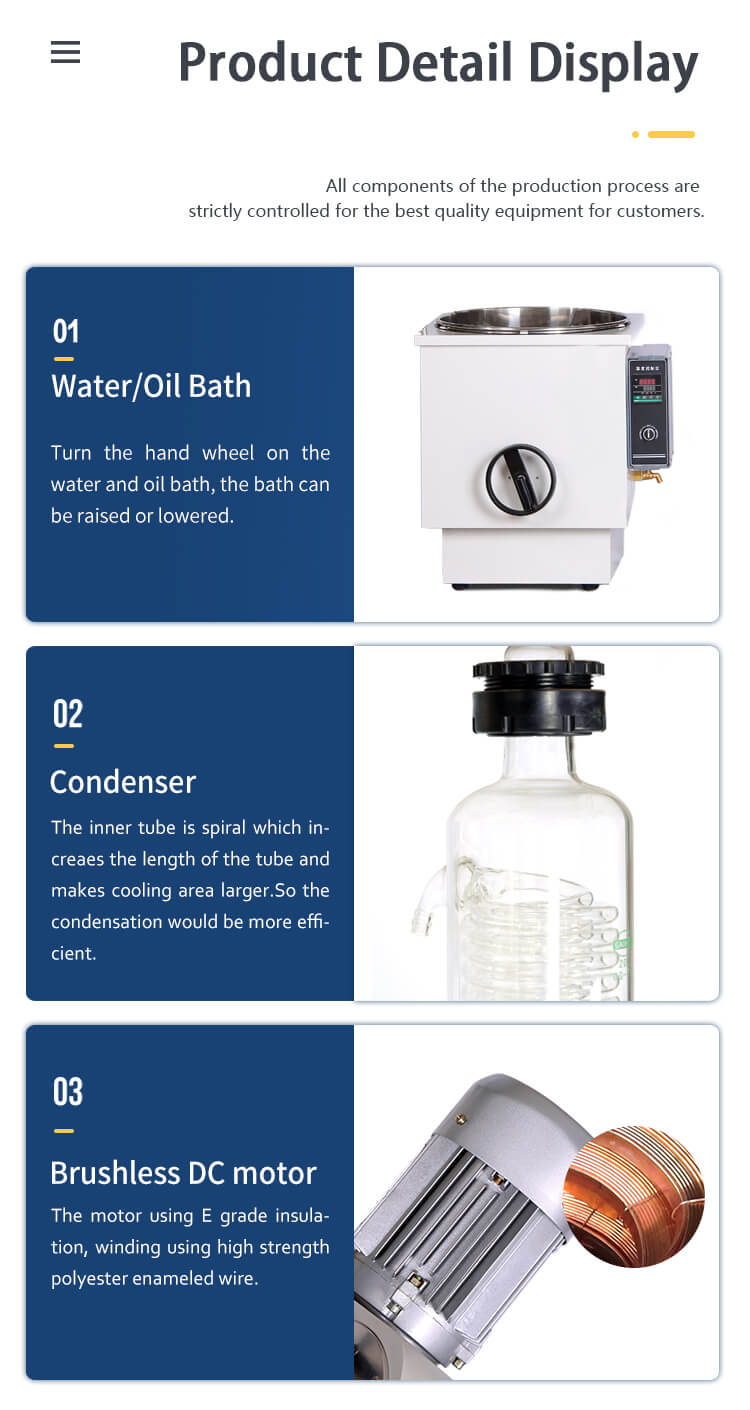 Supporting Equipment for RE-2002 Rotary Evaporator:
DLSB-30/30 Refrigerated Circulator
Storage Volume: 30L
Low temperature range: -30℃~RT
Refrigeration capacity: 363~2722W
Rated Power: 1950W
SHZ-C Water Circulating Vacuum Pump
Power: 370W
Flow(L/min): 80
Lift(m): 12
Max.Vacuum(Mpa): 0.098
Tank Capacity: 50L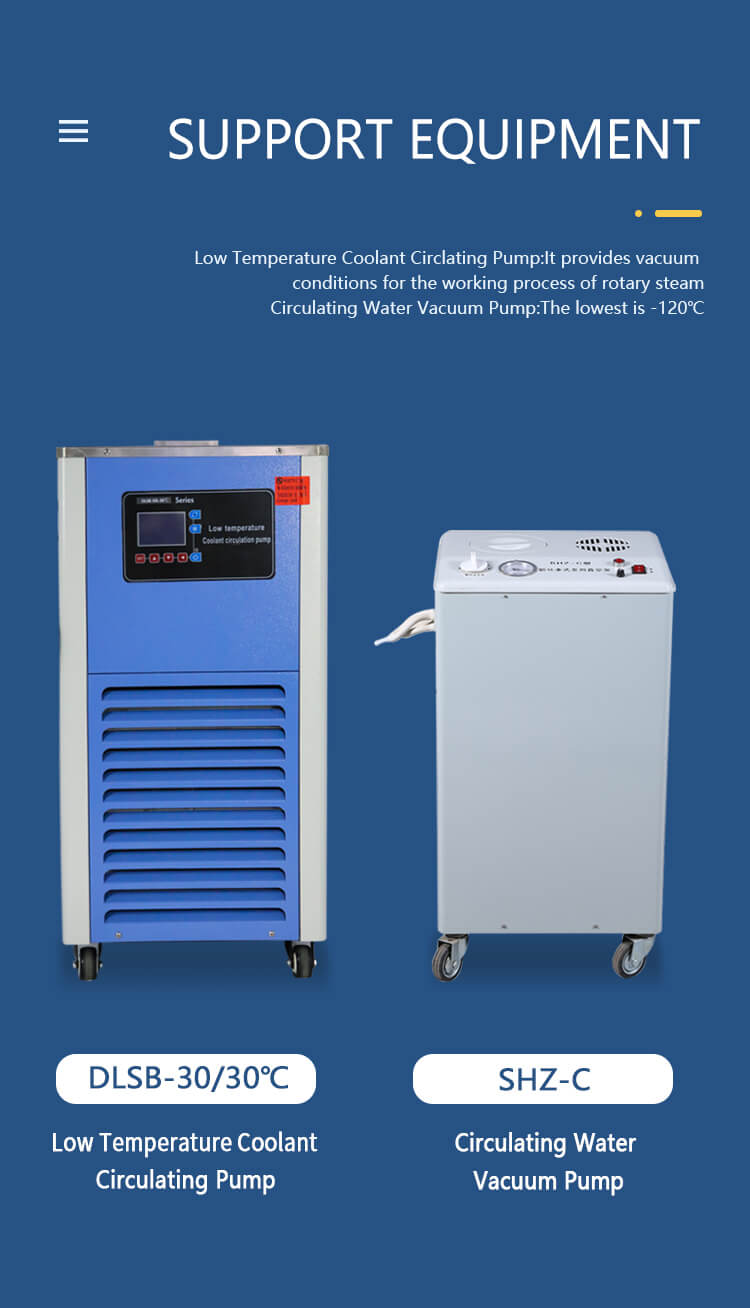 Case : ZZKD Company Selling 20l Rotovap to a Portuguese Customer
ZZKD, a leading supplier of laboratory equipment, received an inquiry from a customer in Portugal for a 20L rotary evaporator. The customer, a research scientist at a pharmaceutical company, was looking for a reliable and efficient system to aid in their research and development.
After discussing their specific needs and requirements, ZZKD recommended the 20L rotovap, which offers a large capacity and advanced features for distillation and purification of liquids. The customer was impressed with the product's capabilities and its user-friendly interface.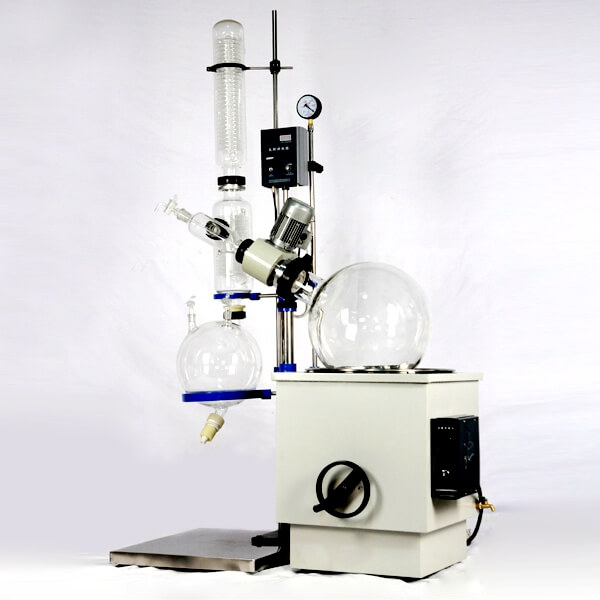 ZZKD provided the customer with a detailed quote and delivery schedule, ensuring that the product would arrive on time for their research project. The customer appreciated ZZKD's professionalism and quick response time, as well as their commitment to providing high-quality laboratory equipment.
Upon receiving the 20L rotovap, the customer was delighted with the product's performance and ease of use. They were able to complete their research project with greater efficiency and accuracy, thanks to the rotovap's advanced features and precision control.
Overall, the customer was extremely satisfied with their experience with ZZKD, and would recommend their products and services to other researchers and scientists. ZZKD's commitment to quality and customer service has made them a trusted supplier of laboratory equipment in Portugal and around the world.